Mercedes-Benz DISTRONIC PLUS®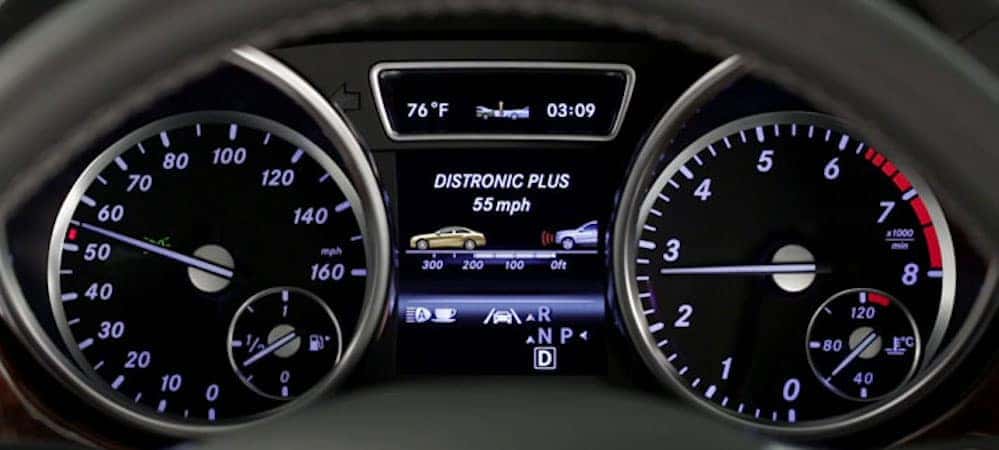 The Mercedes-Benz intelligent cruise control feature, DISTRONIC PLUS®, gives Bullhead City drivers confidence and peace of mind on the road. However, many Mercedes-Benz owners may not know how to use it. Get the most out of this beneficial system by learning all about DISTRONIC PLUS®, courtesy of the team at Mercedes-Benz of Henderson.
What is DISTRONIC PLUS®?
The Mercedes-Benz C-Class, the E-Class, the GLC, and many other Mercedes-Benz vehicles offer DISTRONIC PLUS®. Not only can this advanced adaptive cruise control system automatically accelerate, brake, and keep a safe distance between you and the vehicle ahead, but DISTRONIC PLUS® with Steering Assist also helps you stay in your lane.
How Does DISTRONIC PLUS® Work?
The DISTRONIC PLUS® feature can use up to 40% of your vehicle's braking force to slow down or come to a complete stop when driving at speeds between 20 and 125 mph. You will get a visual and audible warning directing you to apply more braking force if more than 40% of braking force is needed. If there are no vehicles in front of you, DISTRONIC PLUS® will operate the same way as the normal cruise control system on your Mercedes-Benz.
How to Activate DISTRONIC PLUS®
DISTRONIC PLUS® is easy to use and turns on automatically. First, set your cruise control by accelerating to 20 mph or more and using the lever on the left side of the steering column. Then, move the lever up or down to the point of resistance. You can increase and decrease your speed in the same manner. To adjust the distance between your vehicle and the vehicle ahead, you can rotate the end of the cruise control lever.
Learn More About DISTRONIC PLUS® at Mercedes-Benz of Henderson!
Learn more about Mercedes-Benz DISTRONIC PLUS® or other Mercedes-Benz technology, like PRESAFE® and MBUX, by contacting us at Mercedes-Benz of Henderson or visiting our dealership in person. We are located just a short drive from Boulder City!