9 Favorite Features in the 2018 Mercedes-Benz E 400 Coupe
If you thought the car of your dreams didn't exist, think again. The Mercedes-Benz E 400 Coupe is everything you've ever desired and more! Better yet? It's right here waiting for you at Mercedes-Benz of Henderson.
Take a look at 9 of our favorite features you can find in the 2018 E 400 Coupe.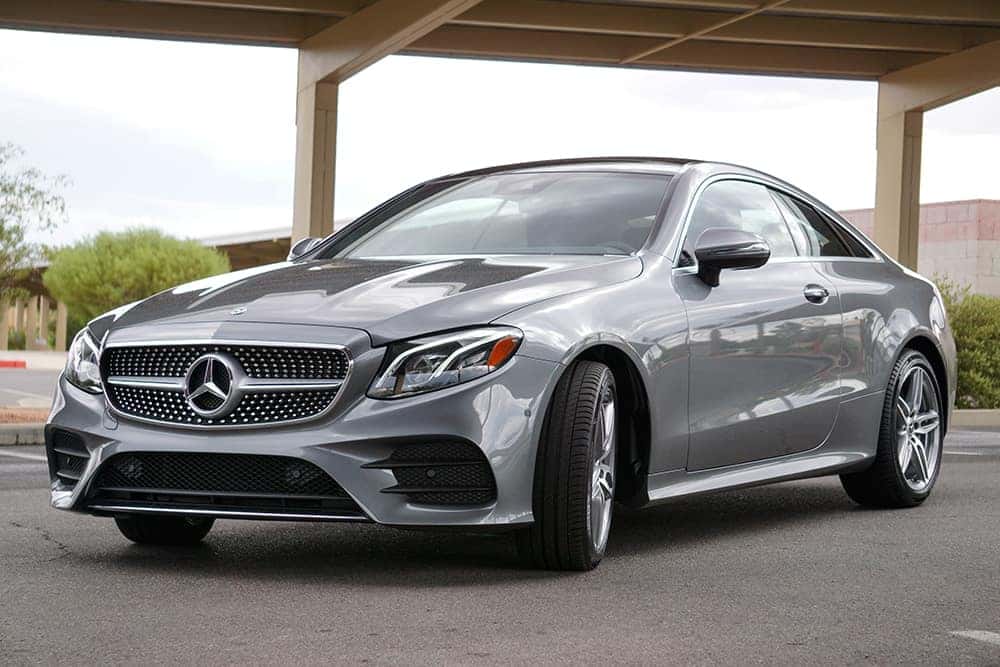 9) Rearview Camera
For a better view of what's behind your vehicle when reversing, a high-resolution camera displays a live view on the central in-dash screen. Steering-dependent active guidelines on the screen help you back into a parking space, and you can select between wide-angle and even wider 180-degree views.
8) 12.3-inch high resolution central COMAND® screen

A crisp, high-resolution screen gives drivers access to entertainment, navigation, comfort and convenience features, and customization vehicle settings.  The linear-style menus are more intuitive and offer easy access via the touchpad controller on the console or the right-hand Touch Control Buttons on the steering wheel.
7) PRESAFE® Sound
An important enhancement to the industry-first PRESAFE® system helps reduce the effects of a collision on occupants' hearing. When the sensors of PRESAFE® detect an impending impact, a special "pink noise" tone is emitted via the audio system just before the collision. The tone's frequency is tuned to induce a natural reflex within the human ear canal that helps shut out loud noises in advance of the actual impact.
6) Active Parking Assist (Optional)
Finding parking throughout Las Vegas, Enterprise, and neighboring areas has never been easier. The E 400 Coupe features available Active Parking Assist technology that will search for suitable parallel or perpendicular parking spaces to either side you drive by. Choose a space to pull or back into, and it can expertly shift, steer and brake for you. When it's time to leave, it can also steer you back out.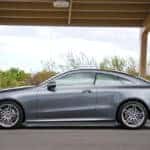 5) 9G-TRONIC automatic transmission
Standard to the E 400 Coupe is a 9G-TRONIC automatic transmission to make shifting that much quicker and convenient. With a greater range of ratios and shorter steps between gears, the new 9-speed automatic delivers seamless power while enhancing quiet riding comfort and fuel-efficiency.
4) 3.0L V6 Biturbo Engine
The 3.0L V6 combines twin turbos and numerous other advances to lower emissions and fuel consumption while generating 329 hp and 354 lb-ft of torque. In a single millisecond, the rapid-multispark ignition can fire up to four times, while the high-pressure Direct Injection tunes the ultra-fine fuel spray to perfection.
3) Multicontour Front Seats w/ Massage Feature (Optional)
Driving through the crowded streets of the Las Vegas Strip has never been a more blissful experience when you're inside the E 400 Coupe. Opt to include the Multicontour Front Seats with Massage Feature and lavish in four different massage programs to help soothe and rejuvenate your back and shoulders.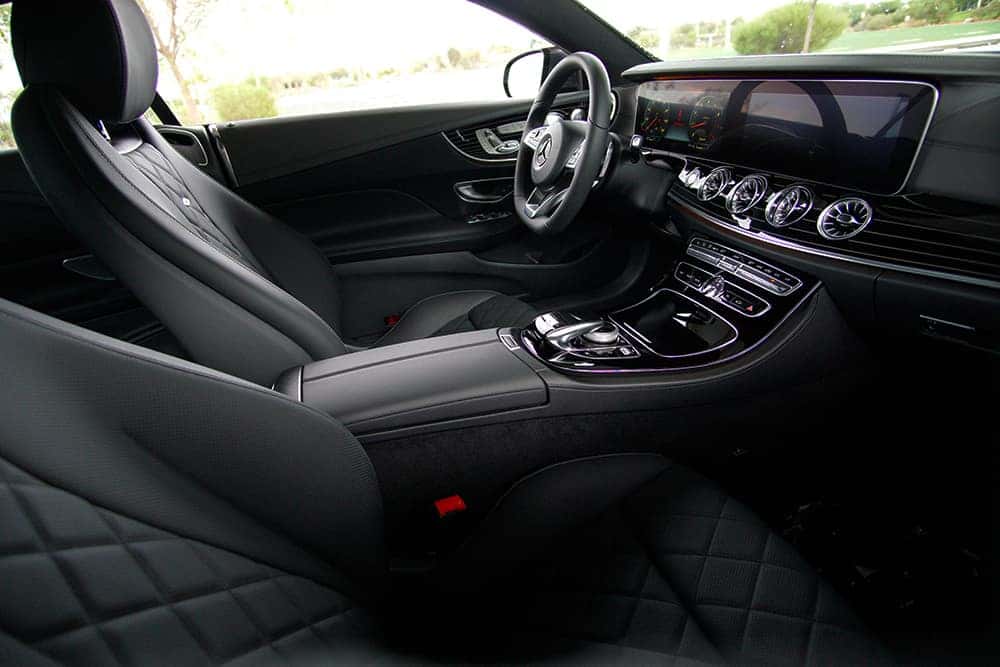 2) "Sensual Purity" in coupe design
The all-new E 400 Coupe encompasses the "Sensual purity" design known to Mercedes-Benz with a slightly bigger wheelbase. While it's more spacious, it's no less gracious. From its diamond-block grille with the traditional mounted Star to its signature wraparound LED taillamps, the E 400 Coupe has grown even more elegant and sporty.
1) Car-to-X Communication 
The future has arrived and the Mercedes-Benz E-Class is leading the way. Car-to-X Communication enables your E-Class to automatically alert a central notification system of certain dangers, from detected wheelspin to the use of hazard flashers or even windshield wipers. The system can then alert other drivers with Car-to-X via in-dash displays or announcements, allowing precautions to be taking before reaching the hazard.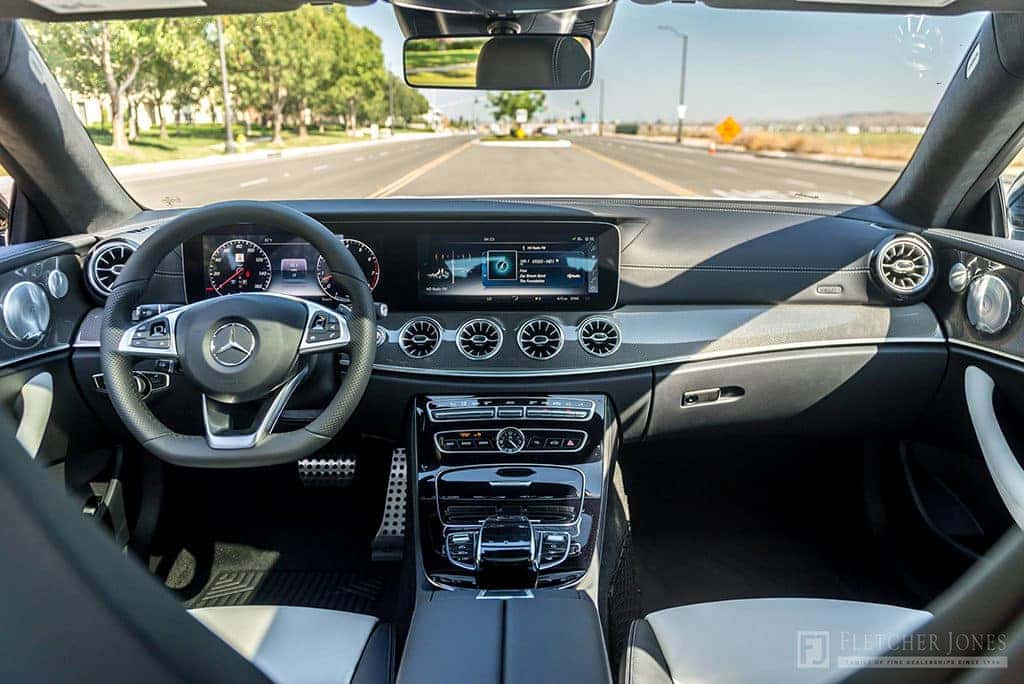 These are just a few of our favorite features. Find out more about what E 400 Coupe has to offer. Click here to learn more.
Still think the car of your dreams doesn't exist? Stop by Mercedes-Benz of Henderson today to take home your dream Mercedes-Benz. Plus, you won't want to miss out on the best time of year; the Mercedes-Benz Winter Event!
Hurry! This event only comes once a year. Click below to shop our current offers.