All About Mercedes-Benz ATTENTION ASSIST®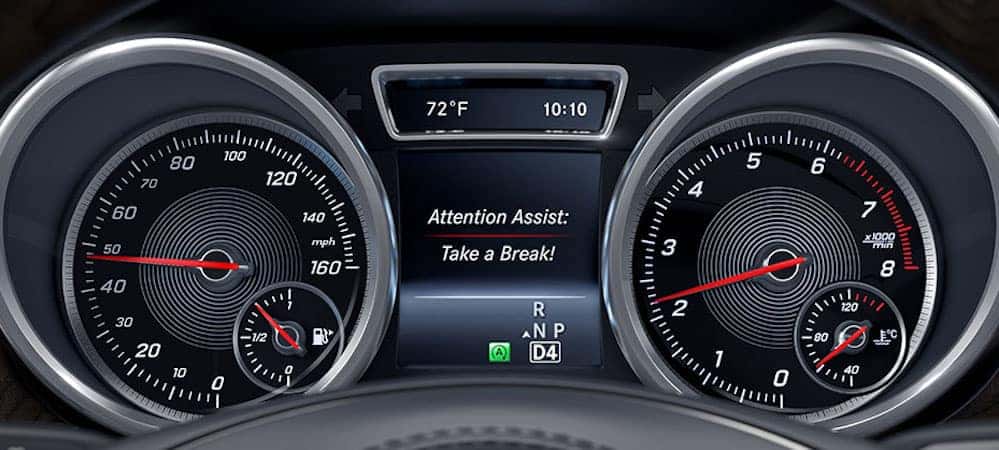 Have you been wondering, "What does the coffee cup mean on my Mercedes-Benz dashboard?" This symbol indicates that Mercedes-Benz ATTENTION ASSIST® is turned on. So, what is ATTENTION ASSIST®? Mercedes-Benz ATTENTION ASSIST® is a Mercedes-Benz car safety feature that is standard on a wide selection of Mercedes-Benz vehicles, including the CLA and E-Class. This intelligent safety feature monitors driving behavior and alerts drivers when they show signs of fatigued driving.
How Does My Mercedes-Benz Detect Drowsiness?
Video Transcription:
Improvements in comfort make even long journeys in a Mercedes[-Benz] a pleasure. During long journeys, however, it's possible that a driver's attention level will fall. Many serious accidents are caused by drivers getting drowsy behind the wheel. To help recognize the signs of driver drowsiness at a very early stage, Mercedes-Benz has developed ATTENTION ASSIST®. If the system detects these typical signs [such as incorrect steering or veering out of a detected lane], the driver will be urged to take a rest.

During the first few minutes of driving, ATTENTION ASSIST® draws up an individual profile of the driver's driving style, which is then constantly compared with the latest feedback from the sensors. At the heart of the system is a highly sensitive sensor that records steering movements and steering speed. Studies by Mercedes-Benz have revealed that drivers who are tired change their steering behavior and make minor steering errors which they then usually correct immediately.

If the system detects this sort of changed behavior, it will go on to check further relevant parameters in order to verify the result. For example, how long has the driver been at the wheel? Is the driver using the instruments and thus showing signs of activity? Are there external influences at work, such as side wind or an uneven road surface? If the result is unequivocal, ATTENTION ASSIST® will issue the audible and visible prompt, "Time for a break." In some models you can also display your detected attention level in the instrument cluster, see how long you've been driving, or even get directions from the navigation system to the nearest rest area. ATTENTION ASSIST® from Mercedes-Benz helps prevent accidents caused by driver fatigue.
Learn More About ATTENTION ASSIST® from Mercedes-Benz of Henderson
Interested in learning more about ATTENTION ASSIST®? Contact us for more information on this helpful safety technology, as well as other Mercedes-Benz safety features, including PRESAFE®! You can also visit us in person near Boulder City and Laughlin to test it for yourself on new models like the SLC!