Learn More About Mercedes-AMG® GT 4-door Coupe Design

Clearly recognisable as a member of the AMG® GT family, the new AMG® GT 4-Door Coupé follows the design philosophy of Sensual Purity. It takes the striking proportions with convex surfaces and a muscular body and develops them to exciting effect for a four-door variant of an AMG® GT Coupé.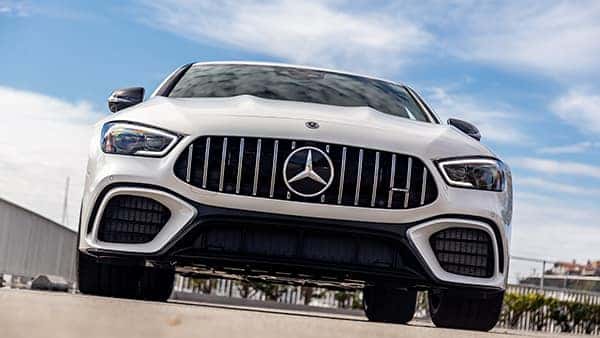 Unmistakably AMG®
the powerful body exudes dynamism and motivation. Sensuous shapes with convex surfaces lend the four-door GT timeless elegance, whilst the flowing silhouette with the lowered greenhouse flags up its sporting credentials. As in the AMG® GT R radiator shutters, the Airpanel in front of the centre cooling air inlet improves the car's aerodynamic efficiency. Slim MULTIBEAM LED headlamps, the AMG®-specific radiator protection grille, the Shark Nose and the front apron with its enhanced Jet Wing (with a flowing A-Wing on the six-cylinder model) also lend the youngest model from Affalterbach the hallmark presence of the AMG® GT family.
Aerodynamically Built
With frameless side windows and a flat windscreen inclined far to the rear, features of the classic coupé architecture are also cited. With the additional seat row in the rear the characteristic lines of the AMG® GT models are not compromised. The tailored upper contours and broad shoulders point to the athletic, sporty orientation of the car, which is additionally emphasised by very pronounced rear wheel arches.
Expressive Design Language
The rear view of the new 4-door coupé picks up on familiar features of the AMG® GT design idiom: extremely slim LED tail lights define the hallmark boot sill line, the rear aerofoil extendable in several stages not only underscores the family affiliation; it is also an important element of the active aerodynamics.
Elevated in both Dynamics & Design
The two eight-cylinder models can be identified through the three horizontal louvres in the side front air intakes, the Jet Wing with its trim element in Silver Shadow, the distinctive diffuser on the tail end and the two-pipe exhaust system with trapezoidal tailpipe trims. The six-cylinder variant, meanwhile, has one louvre in each of the air inlet grilles, round twin tailpipe trims and a somewhat less pronounced rear diffuser.